Premium links



Scale sospese
Arredamento, mobili e banconi su misura per Negozi e gioiellerie. Specializzati in progettazione e realizzazio...

Come fare soldi facili
Come diventare ricchi in questo periodo di crisi economica, Ŕ molto semplice, basta padroneggiare l'opzione si...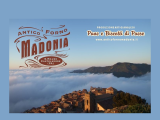 Antico Forno Madonia - San Mauro Castelverde (PA)
L`Antico Forno Madonia produce artigianalmente pane, biscotti e specialitÓ tipiche della tradizione siciliana....

Bed and breakfast umbria
Il Castello di Loreto Ŕ un originale e affascinante bed and breakfast dell'Umbria: infatti le camere sono osp...